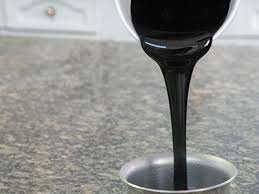 Penetration Bitumen Grade 30/40
Bitumen grade 30/40 is a premium brand that is dark brown or black color similar to cement-shape semi-solid or viscous liquid form produced by the non-destructive refining of crude oil during petroleum refining.
The exact chemical composition of bitumen is dependent on the chemical complexity of the original crude oil and the manufacturing process. Penetration grade bitumen 30/40 has penetration between 30~40 desi-millimeter and softening point between 55 ~ 63 C. The penetration grade bitumen 30/40 has a thermoplastic property which is like as synthetic resin material which gets softer with heating and hardens when cooled. This grade of bitumen 30/40 has very strong viscosity compare to other grades.
Application of bitumen 30/40 grade:
Penetration bitumen grade 30/40 is used for paving, road construction and used for hot mixed asphalt because of the properties of very strong viscosity compared to other grade.
Data Sheet 
of bitumen 30/40 grade:
| | | |
| --- | --- | --- |
| Bitumen 30/40 | Specification | Test method |
| Specific Gravity @25/25cg | 1.01/1.06 | D-70 |
| Penetration @25 Deg.C | 30/40 | D-5 |
| Softening point, Ddeg.C | 55/63 | D-36 |
| Ductility @ 25 Deg.C | 100min | D-113 |
| Loss on heating (WT) % | 0.2 max | D-6 |
| Drop in penetration after heating % | 20 max | D-6, D-5 |
| Flash point, Deg.C | 250 min | D-92 |
| Solubility IS CS2(WT) % | 99.5 max | D-4 |
| Spot test | negative | A.A.S.H.O.T102 |